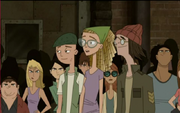 Suzie Elliot is a serious saviour of the environment and one of the three TreeHuggers. She first appeared as a background character in Dudes of Darkness, where she made a comment about how Cyrus quit the band. Later, she made her first, main appearance in Welcome to Factory Island, where she wore glasses throughout the episode, and revealed that she did the frog-part of the Prank.
Hold up! I have small (ish) legs.
This article is short and lacking information. You can help Detentionairepedia by expanding it.
Ad blocker interference detected!
Wikia is a free-to-use site that makes money from advertising. We have a modified experience for viewers using ad blockers

Wikia is not accessible if you've made further modifications. Remove the custom ad blocker rule(s) and the page will load as expected.