"I've read all eight books in the trilogy, OK? and everybody knows that if it was in a book it has to be true"
-Cam to Tina (From 28 Sneezes Later)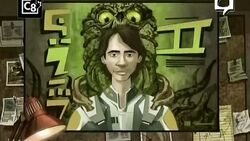 Space Zombie is a popular among A Nigma High students SCI-FI franchise.[1]. The circle involves eight-part-long books series and the three-part-long movie series.[1]
The details of the plot of the series is unknown, yet it revolves around a flu which turns people into mindless zombies which later causes an zombie outbreak. The flu itself originates, presumably, from the space.[1]
Space Zombie Flu
Edit
the symptoms of the flu are (in order): coughing, sneezing, itchy butt cramps and hallucination. After infected person starts to see hallucinations next step is turning into mindless Space Zombie. It's only need is to devour human brains.[1]
References
Edit
Ad blocker interference detected!
Wikia is a free-to-use site that makes money from advertising. We have a modified experience for viewers using ad blockers

Wikia is not accessible if you've made further modifications. Remove the custom ad blocker rule(s) and the page will load as expected.