Nasasha is a minor character that has only been seen talking during the episode Corndog Day Afternoon. She is seen numorous times as a random character walking through A. Nigma High's corridors and only gained a larger role during the episode Fight or Flight. Despite this, she has had only one speaking line in the show.

Prior to series start 
Nasasha was in Mrs Rosenbluim's grade three class along with Steve, Camillio, Dickey, Grayson, Cyrus, Suzie, Brad, Irwin, Trevor, LaGreenor and another un-named student who has also been seen numerous times. She seemed to be rather chummy with Dickey when they were in younger grades.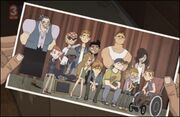 Ad blocker interference detected!
Wikia is a free-to-use site that makes money from advertising. We have a modified experience for viewers using ad blockers

Wikia is not accessible if you've made further modifications. Remove the custom ad blocker rule(s) and the page will load as expected.