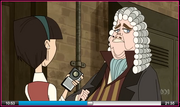 Mr. Rousseau is a male history teacher, who makes a brief appearance being interrogated by Tina about her sister being put in detention. He is the favourite teacher of Ruby Kwee, Tina's younger sister, and recommended her to a very prestigious university. He apparently has taken over coaching the fencing team in Coach Pummel's absence. He is a clone of the Francophone philosopher Jean-Jacques Rousseau.
Appearance
Edit
Mr. Rousseau is a tall, obese man. He wears a Victorian-styled outfit with a small Shakespeare-like moustache, goatee, and powdered wig. He wears a yellow and red-striped dress shirt and a light blue ascot, with a black overcoat.
Appearances
Edit
Hold up! I have small (ish) legs.
This article is short and lacking information. You can help Detentionairepedia by expanding it.

Ad blocker interference detected!
Wikia is a free-to-use site that makes money from advertising. We have a modified experience for viewers using ad blockers

Wikia is not accessible if you've made further modifications. Remove the custom ad blocker rule(s) and the page will load as expected.