"Tell me you guys were seeing the Tatzelwurm tapdancing too....."
-Lee asks Camillio and Holger about the Tazelwurm tapdancing (From 28 Sneezes Later)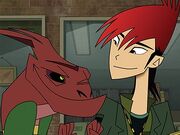 This article features the relationship between Lee Ping and The Red Tatzelwurm
In the early episodes the Tazelwurm appeared to be nothing more than a vicious, carnivorous predator. Often seen attacking students, including Lee, and apparently trying to eat them, but generally this serves only as a means to scare them. In reality, the Tazelwurm is highly intelligent, at least comparable to a human level intelligence. Further, he has proven himself a valuable ally to Lee, providing him with vital information about The Prank and saving him from getting caught on several occasions.
Episodes Showing a Conflict
Edit
Blitzkrieg Bop'd - The Red Tatzelwurm attacked Lee while he was in the air-vents and though Lee was able to blind the creature. It was implied, at the time, that the Tatzelwurm would have killed Lee, although his true motives aren't known.
The Theme Team - When Lee brought Vice Principal Victoria into the underground lab in hopes of recruiting her in his fight against Radcircles, the Tatzelwurm attacked her until being chased off by the Cleaners. Though since it's later revealed that Victoria was involved with the Prank conspiracy it can be safe to say that he was acting in Lee's best interests.
Revenge of the Cycle Killers - The Tatzelwurm stole the file on Sue Ping from Lee and Biffy and threw it into a bonfire to keep it from both of them.
Episodes Showing a Friendship
Edit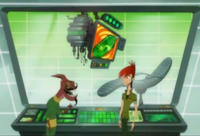 Ad blocker interference detected!
Wikia is a free-to-use site that makes money from advertising. We have a modified experience for viewers using ad blockers

Wikia is not accessible if you've made further modifications. Remove the custom ad blocker rule(s) and the page will load as expected.