Hold up! I have small (ish) legs.
This article is short and lacking information. You can help Detentionairepedia by expanding it.
This page needs images!
This page needs a lot more images, which can be obtained through the use of ABC Australia or Teletoon episode viewers. Images must be uploaded as soon as possible.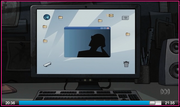 This article features the relationship between Lynch Webber and Lee Ping.
Lee's relationship with Lynch has always been more then just a little mixed. While as Lynch he shows himself to be a loyal ally to Lee and his goals being his self proclaimed sidekick. However this is in fact a cleverly crafted ruse, in reality he is the psychotic, unstable and completely insane Radcircles, perpetrator of the prank and dedicated to making Lee Ping's life completely miserable.
Episodes showing a Friendship
Edit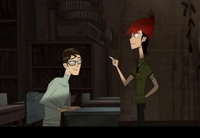 Episodes showing a Conflict
Edit
Ad blocker interference detected!
Wikia is a free-to-use site that makes money from advertising. We have a modified experience for viewers using ad blockers

Wikia is not accessible if you've made further modifications. Remove the custom ad blocker rule(s) and the page will load as expected.