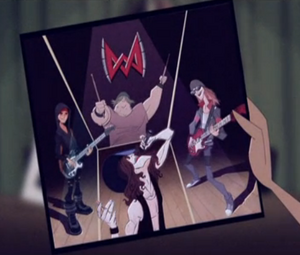 Goob is the Dudes of Darkness guitarist and second in command. He greatly disliked the music used during The Prank because of the insanity inducing effects it had only on Cyrus and more importantly that Cyrus wanted to play it instead of their songs.
Luckily Lee Ping was able to reunite the disfunctional band in time for the Battle of the Bands.
Hold up! I have small (ish) legs.
This article is short and lacking information. You can help Detentionairepedia by expanding it.
Ad blocker interference detected!
Wikia is a free-to-use site that makes money from advertising. We have a modified experience for viewers using ad blockers

Wikia is not accessible if you've made further modifications. Remove the custom ad blocker rule(s) and the page will load as expected.