Hold up! I have small (ish) legs.
This article is short and lacking information. You can help Detentionairepedia by expanding it.

"I'm Dash Monoranian and that moment update was brought to you by me"
-Dash Moneranian (From If the Shoe Fits)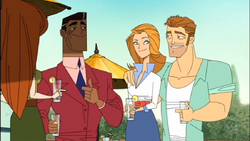 Dash Monoranian is a news reporter and the father of Chaz Monorainian.[1].
Before the series
Edit
Very little is known about Dash's past before the series' beginning. What is known that he attended the same high school as Veronica Victoria, Mrs. Von Chillstein, and Ace Von Chilstein, and was friends with all of them.[1].
After Lee Ping abandoned Brandy Silver's party during the events of Friday Night Bites, Dash interviewed the former about her party.
Season Two
Edit
At Brad's pool party, he asked Vice Principal Victoria if she could do anything about his son being removed from the school news team[1].
Appearances
Edit
References
Edit
Ad blocker interference detected!
Wikia is a free-to-use site that makes money from advertising. We have a modified experience for viewers using ad blockers

Wikia is not accessible if you've made further modifications. Remove the custom ad blocker rule(s) and the page will load as expected.