Wait. You're clones too? – Sue Ping, Band Of Heroes
This article may be on the same subject as one or more articles, and a merge or deletion may be in the works. It may be a duplicate of Reaper Mats.
Blue Reaper Mats, also known as Fancy Bots, appear to be the guards of
Coral Grove
and the
Experts
as they guarded them as they got off the submarine from Coral Grove. They are said to have some sort of pyschic powers, with abilities that allow people to pass out from the noise. They seem to have some forms of inteligence as they know how to play cards and are seen playing with
Principal Wurst
.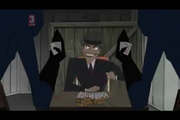 Appearance
Edit
Blue Reaper Mats look like normal Reaper Mats, except for the fact that they are blue (body, mask, & scythe). It's likely that they also use the same magnetic technology and staff.
Appearances
Edit
Refrences
Edit
Ad blocker interference detected!
Wikia is a free-to-use site that makes money from advertising. We have a modified experience for viewers using ad blockers

Wikia is not accessible if you've made further modifications. Remove the custom ad blocker rule(s) and the page will load as expected.